State Rehabilitation Council
The State Rehabilitation Council advises the Vocational Rehabilitation and Blind Services program to improve policies, programs, and delivery of services through a collaborative effort with other agencies.
Membership of Council
The Council is composed of 22 members representing different disabilities, business, education, and advocacy groups. The members come from all parts of Montana, and over 50% of the members must have disabilities.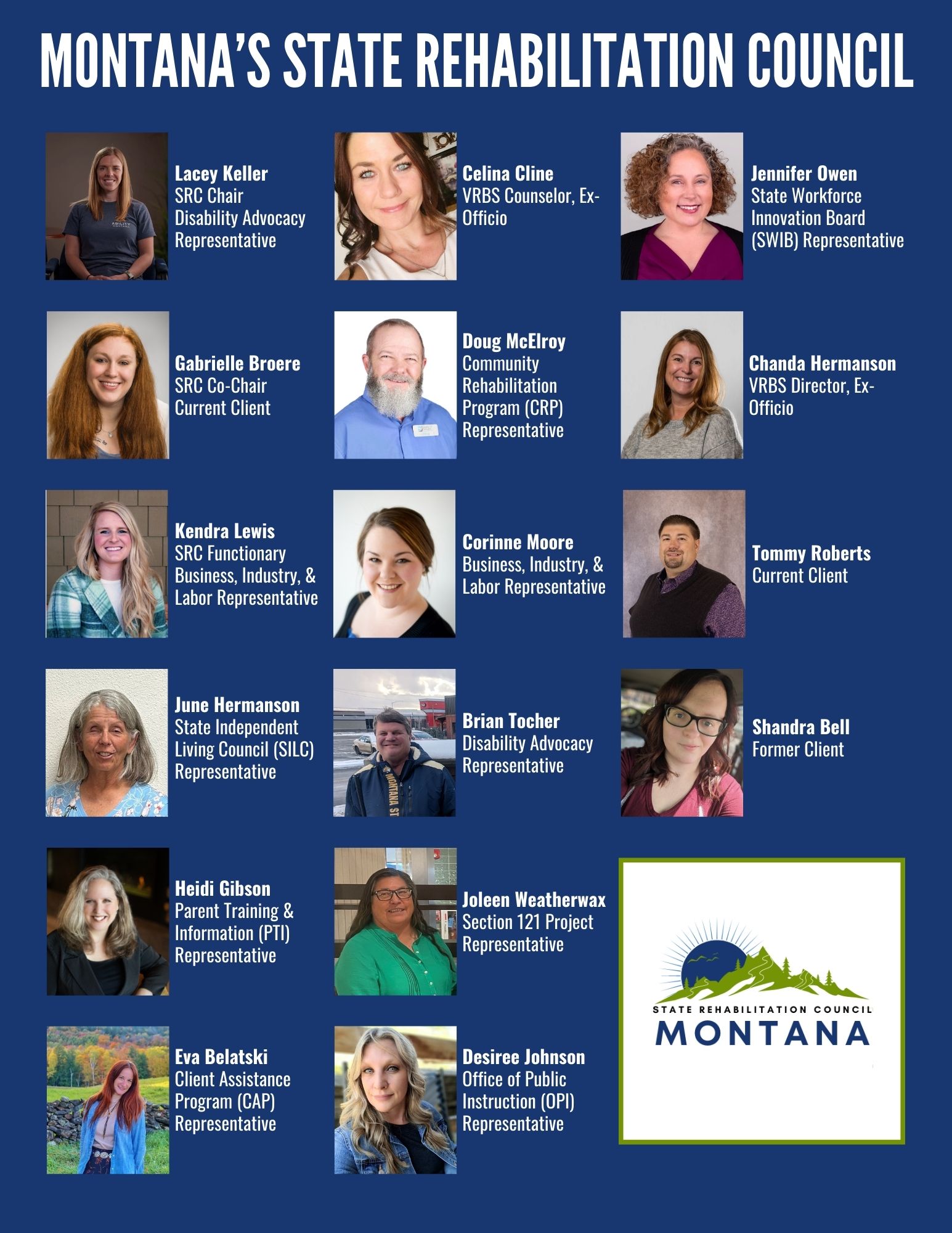 Left to right: Corrine Moore, Tommy Roberts, Barb Lowney, Gabrielle Broere, Kathy Hamton, Jean Schroeder, Tom Manthey, Jolene Weatherwax, Lacey Keller, Marcy Roberts, Doug McElroy, Chanda Hermanson, Celina Cline, Emma Roberts, Brian Tocher
Not pictured: John Gorton and Kendra Joyce
As of 11-15-2023
Representation required in Law
Business, Industry, and Labor (4)
Parent Training and Information Center
Jean Schroeder, Vaughn
406-750-8086
MT Empowerment Center, Inc.
Workforce Innovation Board
Native American VR Project
Education Agency
Client Assistance Program
Independent Living Council
Vocational Rehabilitation Counselor
Celina Cline, Havre
406-265-6933
Community Rehabilitation Program
Director of the Designated State Unit
Chanda Hermanson, Helena
Administrator of Disability, Employment and Transitions Division
Current/Former VR Clients / Disability Advocates (9)
The Council shall convene at least four (4) meetings per year in such places as it determines necessary to conduct business.  The Council may conduct forums and hearings as the Council considers appropriate.  The meetings, hearings, and forums shall be publicly announced.  The meetings shall be open and accessible to the general public unless there is a valid reason for an executive session.
General Meeting Objectives
2/9/2023
Spring (May)
Welcome and orient new members
Joint meeting with Statewide Independent Living Council (1 full day)
Consumer Satisfaction survey results presented by VRBS staff
Review/Revise SRC Bylaws (Education and Membership Committee)
Economic Development and Employer Engagement/Presentation
Committee reports
Summer (August)
Welcome and orient new members
Strategic Plan Presentation by VRBS staff
Federal report presentation and review
Economic Development and Employer Engagement/Presentation
Vote for Chair and Vice Chair for next fiscal year
Committee reports
Election of new officers for next fiscal year
Fall (November)
Welcome and orient new members
Committee Presentation and review the Governor's Report
Review/revise the SRC Manual (Education & Membership Committee)
Economic Development and Employer Engagement/Presentation
Committee reports
Winter (February)
Welcome and orient new members
Legislative/Executive Planning Process
State Plan presentation by VRBS staff
SRC spending prior fiscal year
Economic Development and Employer Engagement/Presentation
Committee reports
Meeting Dates
Meetings, Agendas and Minutes

Dates

Location

Address

Zoom Link

Agenda

Minutes

Fall 2024

TBD

TBD

Link coming soon

Agenda coming soon

Minutes coming soon

Summer 2024

TBD

TBD

Link coming soon

Agenda coming soon

Minutes coming soon

April 17, 2024 (with SILC)

Missoula

TBD

Link coming soon

Agenda coming soon

Minutes coming soon

April 16, 2024

Missoula

TBD

Link coming soon

Agenda coming soon

Minutes coming soon

February 8 & 9, 2024

Red Lodge

TBD

Agenda coming soon

Minutes coming soon

November 8 & 9, 2023

Butte

Best Western -Butte Plaza Inn

2900 Harrison Ave

Minutes coming soon

August 10 & 11, 2023

Anaconda

The Forge Hotel

100 Union Ave

May 11, 2023

Helena

Disability Rights Montana

1022 Chestnut St

May 10, 2023 (with SILC)

Helena

Disability Rights Montana

1022 Chestnut St

February 9, 2023

Virtual

N/A
Past Meeting Minutes 
Education & Member
Duties:

Recruit new members
Plan orientation for new members
Review Bylaws/Constitution
Review SRC binder/Council Manual

Chair Corrine Moore
Planning & Review
Duties:

Write the Governor's Report (annual report)
Review State Plan
Discuss Priorities & Goals

Chair Marcy Roberts
Consumer Satisfaction & Needs Assessment
Duties:

Client Satisfaction survey
Establish the needs assessments (through 3rd party) and Review

Chair Celina Cline
Policy, Procedure, & Personnel Development
Duties:

Covers all policy & procedure changes with VRBS
Personnel – maintaining & turnover rates
Review IHO decisions
Reviews training curriculum
All-Staff training

Chair Brook Hodge 
Council Manual – Welcome Message
If you have other questions, contact Lacey Conzelman, staff to the Council at:
Montana Vocational Rehabilitation
PO Box 4210
Helena, MT 59604
Phone 406-655-7673
Email: Lacey.Conzelman@mt.gov