Health Resources Division
The Health Resources Division (HRD) administers Medicaid primary care services, Healthy Montana Kids, Children's Health Insurance Plan, and Big Sky Rx. The purpose of the division is to improve and protect the health and safety of Montanans. The division reimburses private and public providers for a wide range of preventive, primary, and acute care services. Major Service providers include: physicians, public health departments, clinics, hospitals, dentists, pharmacies, durable medical equipment, and mental health providers.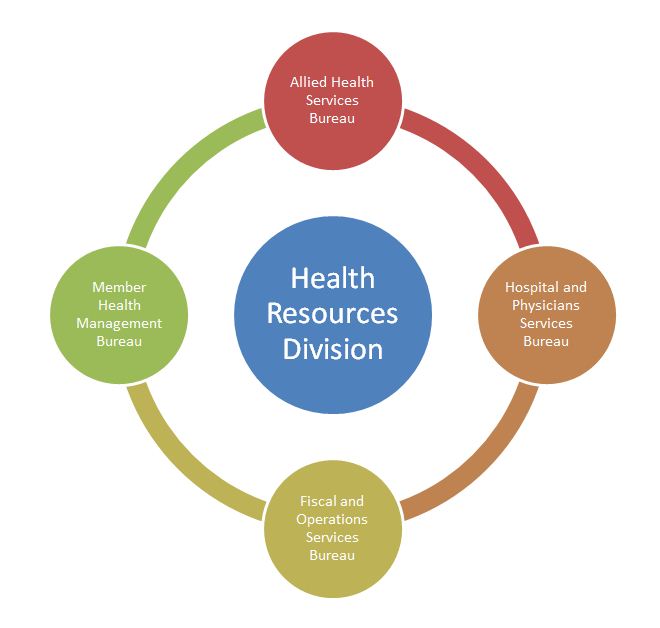 The Allied Health Services Bureau
The Allied Health Services Bureau manages the Medicaid programs for home infusion therapy, dental services, durable medical equipment, school-based services, eyeglasses, audiology, therapies, prescription drugs, and transportation.
The Hospital and Physicians Services Bureau
The Hospital and Physician Services Bureau provide healthcare in Montana through a network of 15 acute care facilities and 45 critical access hospitals (CAH's) across the state. Medicaid reimburses for outpatient services, emergency care and inpatient hospitalizations. Providing these services in Montana is cost effective, supports Montana's healthcare system and helps assure access to health services for all Montanans. Medicaid's provider network includes over 10,400 physicians and midlevel providers. All Medicaid eligible individuals have access to services provided by physicians and midlevel providers. Medicaid reimburses for services including, but not limited to: office visits, lab tests, surgeries, childbirth, prenatal care and anesthesia.
The Member Health Management Bureau
The Member Health Management Bureau manages the Passport to Health, Team Care, and the Health Improvement Program which are operated under a Sec. 1915(b) waiver from the Centers for Medicare and Medicaid Services (CMS).  In addition to improving  health outcomes, these programs benefit physicians and other providers by decreasing non-urgent after-hours and daytime phone calls, reducing inappropriate office visits, educating people how to use health care, encouraging compliance with providers' treatment plans, reinforcing the provider-patient relationship, and encouraging self-management of health conditions. Member Health manages  HMK, Childrens Health Insurance Plan health care services: well child checkups; routine physicals; office and emergency visits, hearing and vision screenings, dental services, prescription drugs, mental health services and more