Substance Use Prevention, Treatment, and Recovery Services Block Grant
Population & Focus Area
Montana  focuses on preventing all ages from underage use of alcohol, marijuana, and methamphetamine.
Program Goals & Objectives
Goal 1: Prevent the onset and reduce the progression of substance abuse in youth ages 9-20 in funded counties, and for disproportionate populations (On Probation, In Foster Care and On Reservation).
Goal 2: Strengthen prevention capacity/infrastructure at the state, tribal and county levels.
Goals 3: Strengthen comprehensive prevention approach.
Program Contractual Partnerships
Western Montana Mental Health Center
Butte Cares Inc.
Alliance for Youth
South Central Montana Regional Mental Health Center
Eastern Montana Community Mental Health Center
Montana Alliance of Boys & Girls Clubs
Healthy Mothers Healthy Babies – The Montana Coalition
Montana State University – Center for Health and Safety Culture
University of Montana – College for Children, Families, and Workforce Development
NASPA
Block Grant State Application and Reports
2023 Application and Report
2022 Application and Report
2021 Application and Report
The primary goal of prevention science is to improve public health by identifying risk and protective factors, assessing the effectiveness of preventive interventions and identifying ways to provide information. The field involves the study of human development and social ecology as well as the identification of factors that lead to positive and negative health behaviors and outcomes. Theories of human development are used to design interventions (programs and policies) that target the reduction of risk and the enhancement of protective factors at the individual, familial, peer, community, and environmental levels.
Prevention science is multidisciplinary, as the expertise necessary to conduct this science draws from many fields. Prevention scientists include epidemiologists, psychologists, physicians, sociologists, social workers, educators, health practitioners, public health scientists, bio-statisticians, nurses, geographers, mental health counselors, anthropologists, policy analysts, economists, criminologists, neuroscientists, and geneticists.
Behavioral Health refers to "a state of emotional/mental well-being and/or choices and actions that affect health and wellness." Individuals engage in behavior and make choices that affect their wellness, including whether or not to use alcohol, tobacco or other drugs. Communities can also impact choices and actions that affect wellness, such as imposing and enforcing laws that restrict youth access to alcohol and assuring that all pregnant women have access to prenatal care.
Behavioral health problems include:
• Substance abuse or misuse
• Alcohol and drug addiction
• Mental and substance use disorders
• Serious psychological distress
• Suicide
The term behavioral health can also be used to describe the service systems surrounding the promotion of mental health, the prevention and treatment of mental and substance use disorders, and recovery support. The public health approach and the Institute of Medicine (IOM) Continuum of Care co-exist and both influence the field of prevention in behavioral health.
The Institute of Medicine's continuum of care is a classification system that presents the scope of behavioral health interventions and services including: promotion of health, prevention of illness/ disorder, treatment, and maintenance/recovery.  A comprehensive approach to behavioral health also means seeing prevention as part of an overall continuum of care. The Behavioral Health Continuum of Care Model recognizes multiple opportunities for addressing behavioral health problems and disorders. Based on the Mental Health Intervention Spectrum, first introduced in a 1994 Institute of Medicine report, the model includes the following components:
Promotion -

 

These strategies are designed to create environments and conditions that support behavioral health and the ability of individuals to withstand challenges. They enable people "to increase control over, and to improve, their health." Promotion strategies also reinforce the entire continuum of behavioral health services.
Prevention

 

- Delivered prior to the onset of a disorder, these interventions are intended to  prevent or reduce the risk of developing a behavioral health problem, such as underage alcohol use, prescription drug misuse and abuse, and illicit drug use. There are 3 main types of prevention interventions including:
Universal:

 

focus on the "general public or a population subgroup that have not been identified on the basis of risk." 
Examples: community policies that promote access to early childhood education, implementation or enforcement of anti-bullying policies in schools, education for physicians on prescription drug misuse, and social skills education for youth in schools 
Selective:

 

focus on individuals or subgroups of the population "whose risk of developing behavioral health disorders is significantly higher than average." 
Examples: prevention education for new immigrant families living in poverty with young children, and peer support groups for adults with a history of family mental illness and/or substance abuse 
Indicated:

 

focus on "high-risk individuals who are identified as having minimal but detectable signs or symptoms" that foreshadow behavioral health disorders, "but who do not meet diagnostic levels at the current time." 
Examples: information and referral for young adults who violate campus or community policies on alcohol and drugs; and screening, consultation, and referral for families of older adults admitted to emergency rooms with potential alcohol-related injuries
Treatment

 

- These services are for people diagnosed with a substance use or other behavioral health disorder. They include case identification and standard forms of treatment.
Maintenance

 

- Includes interventions that focus on compliance with long-term treatment to reduce relapse and recurrence, and aftercare including rehabilitation and recovery support.
Recovery

 

- These services support individuals' abilities to live productive lives in the community and can often help with abstinence. This is a process of change through which individuals improve their health and wellness, live a self-directed life, and strive to reach their full potential.
Source: SAPST, Version 8, November 2012 – SAMHSA Reference #277 - 08 - 0218
A commonly used definition of public health from the IOM: "It is what we, as a society, do collectively to assure the conditions for people to be healthy."
Promotion and Prevention – The focus is on promoting wellness and preventing problems.
Population-based –The focus is not on one individual but on the population that is affected and at risk.
Risk and Protective Factors – These are the factors that influence the problem.
Domain – The ecological model in which the individual is influenced by different environments, such as the family, neighborhood, school, community, and peers (see the Social-Ecological Model below)
Developmental Perspective – Consider the developmental stage of life of the populations at risk (e.g. adolescence, young adults)
Planning Process – Public health utilizes a deliberate, active, and ongoing planning process.
Prevention requires understanding the factors that influence behavior. The CDC uses a theory-based four-level social-ecological model framework to better understand how the social determinants of health influence and maintain health and health-related issues. This can help identify promising points of intervention and the effect of potential prevention strategies. This model considers the complex interplay between individual relationship, community, and societal factors. It allows for the understanding of the range of risk and protective factors that affect behavior. The overlapping rings in the model illustrate how factors at one level influence factors at another level.
Besides helping to clarify these factors, the model also suggests that in order to prevent behavior, it is necessary to act across multiple levels of the model at the same time. This approach is more likely to sustain prevention efforts over time than any single intervention.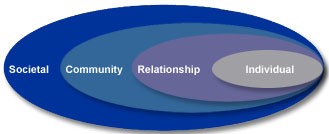 Individual
The first level identifies biological and personal history factors that increase the likelihood of a behavior. Some of these factors are age, education, income, history of substance use. Prevention strategies at this level promote attitudes, beliefs, and behaviors that prevent behaviors.
Relationship
The second level examines close relationships that may increase the risk of behavior. A person's closest social circle – peers, partners and family members – influences their behavior and contribute to their experience. Prevention strategies at this level may include parenting or family-focused prevention programs and mentoring and peer programs designed to strengthen problem-solving skills and promote healthy relationships.
Community
The third level explores the setting, such as schools, workplaces, and neighborhoods, in which social relationships occur and seeks to identify the characteristics of these settings that are associated with a given behavior. Prevention strategies at this level impact the social and physical environment. Examples include reducing social isolation, improving opportunities in neighborhoods, as well as the processes, policies, and social environment within school and workplace e settings.
Societal
The fourth level looks at the broad societal factors that help create a climate where specific behaviors are encouraged or inhibited. These factors include social and cultural norms, as well as the health, economic, educational and social policies that help to maintain economic or social inequalities between groups in society.
https://www.cdc.gov/violenceprevention/publichealthissue/social-ecologicalmodel.html
Addressing the impact of substance use alone is estimated to cost Americans more than $600 billion each year.   In addition, the Institute of Medicine and National Research Council's Preventing Mental, Emotional, and Behavioral Disorders Among Young People Report (2009) notes that cost-benefit ratios for early treatment and prevention programs for addictions and mental illness programs range from 1:2 to 1:10. This means a $1 investment yields $2 to $10 savings in health costs, criminal and juvenile justice costs, educational costs, and lost productivity".
"Substance abuse is a pervasive problem in the United States—cutting across racial, socioeconomic, geographic and generational lines. Its effects are straining the resources of the health care and judicial systems and delivering a regular dose of disturbing headlines. Drug deaths now outnumber traffic-related deaths in the U.S. for the first time since the government started tracking drug-induced deaths in 1979. The number of U.S. babies born with opiate drug withdrawal has tripled in the past decade. There are approximately 80,000 deaths attributed to excessive alcohol use each year in the United States, with the Centers for Disease Control and Prevention (CDC) estimating 2.3 million years of potential life lost."
Introduction to the Strategic Prevention Framework
The Strategic Prevention Framework is SAMHSA's five-step planning process for instituting an intervention in your community, region or state. There are five steps, and each is guided by principles of sustainability and cultural competency. Sustainability meaning the process of an effective system achieving and maintaining desired long-term results. Cultural competency refers to a defined set of values and principles that encourage behaviors, attitudes, policies and structures that enable an organization to work effective cross- culturally.
Prevention Specialist Training: Substance Abuse Prevention Skills Training (SAPST) 
SAPST training introduces the fundamentals of substance abuse prevention based on the current knowledge and practice in the field. The training was developed for individuals new to substance abuse prevention or early in their prevention career. In addition to the four days of training, participants will also be sent a link and need to complete an on-line course prior to the training.
For a brief introduction to the principles of the SPF process: please visit the  SAMHSA website.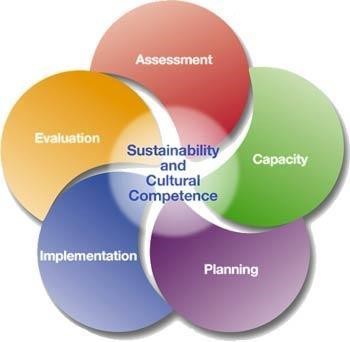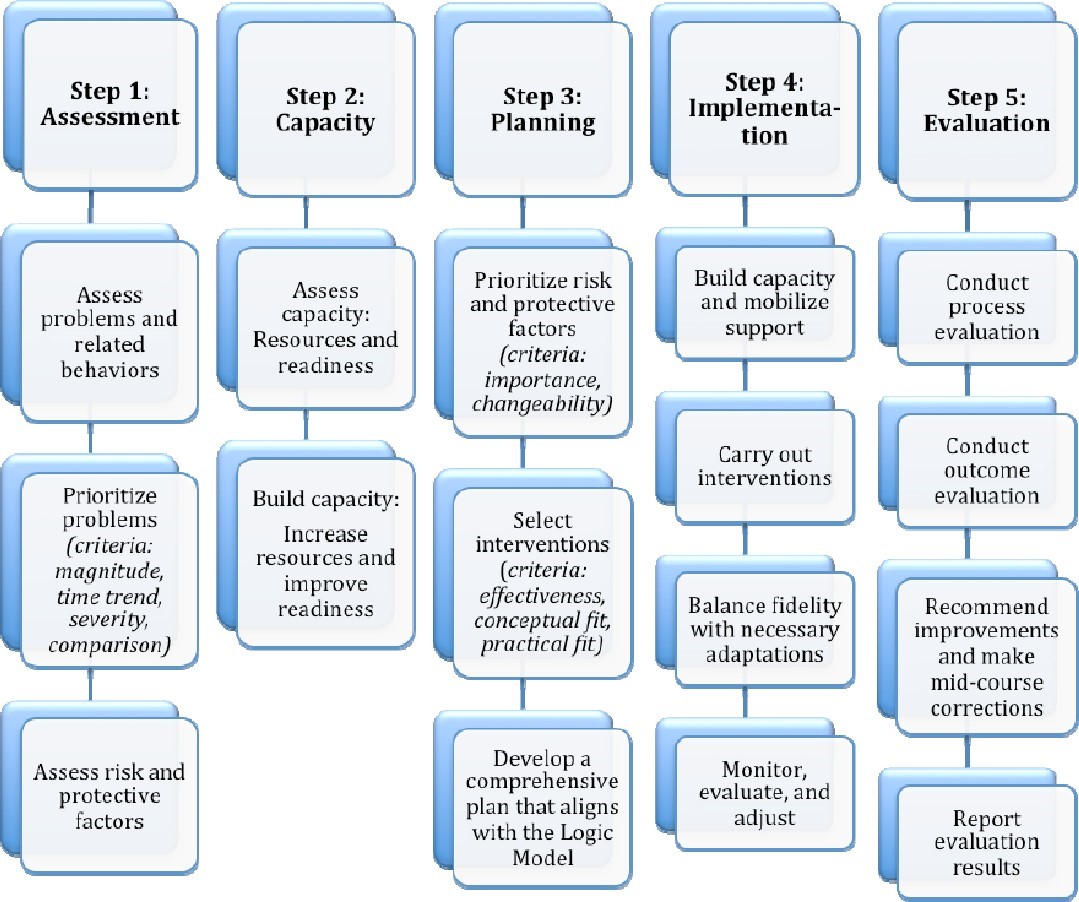 The five steps of the   SPF  include:
Assessment: Collect data to define behavioral health problems and needs within a geographic area.
Capacity: Mobilize and/or build capacity within a geographic area to address identified needs.
Planning: Develop a comprehensive, data-driven plan to address problems and needs identified in assessment phase.
Implementation: Implement evidence-based prevention programs, policies, and practices.
Evaluation: Measure the impact of implemented programs, policies and practices.
Sustainability and cultural competence should be integrated into all steps of the SPF.
This resource is adapted by the New England PTTC from a resource created in partnership with the Maine Prevention Workforce Development Workgroup, convened by AdCare Educational Institute of Maine under contract with the Maine Center for Disease Control. It aims to meet universal developmental training needs of the substance misuse prevention workforce in New England. This resource is not specific to any one funding source or program. This resource can be used by new preventionists entering the field working in any federal, state, or locally funded prevention coalition, organization, or initiative.
Prevention Technology Transfer Center Network
The purpose of the Prevention Technology Transfer Center (PTTC) Network is to improve implementation and delivery of effective substance abuse prevention interventions, and provide training and technical assistance services to the substance abuse prevention field.  It does this by developing and disseminating tools and strategies needed to improve the quality of substance abuse prevention efforts; providing intensive technical assistance and learning resources to prevention professionals in order to improve their understanding of prevention science, epidemiological data, and implementation of evidence-based and promising practices; and, developing tools and resources to engage the next generation of prevention professionals
National American Indian & Alaska Native PTTC
The National American Indian & Alaska Native Prevention Technology Transfer Center (NAIAN-PTTC) aims to provide training and technical assistance services to the substance abuse prevention field including professionals, para-professionals, organizations and others in the prevention community focused on American Indian and Alaska Native (AI/AN) communities.
NAIAN-PTTC activities and services are focused on developing and disseminating culturally appropriate tools and strategies needed to improve the capacity of prevention specialists to deliver effective, culturally informed, evidence-based/knowledge practices with the intent of enhancing the quality of substance abuse prevention interventions, trainings and other prevention activities in AI/AN communities.
The mission of the NAIAN-PTTC is to strengthen and promote systematic behavioral health practice improvements for Native providers in order to honor and contribute to the health and well-being of tribal and urban Indian communities, as well as training non-Native providers using culturally informed practices so that communities have the resources to care for their people in the most culturally informed and knowledge – based way and Native providers can determine how to integrate western practices into their traditional methods.